Meet the 2018 Winterfest Jr. Captain: Thomas Boegler representing The Salah Foundation
Thomas was honored at the 2018 Winterfest Grand Marshal Reception at the Seminole Hard Rock Hotel & Casino. Thomas received the most online votes to become Captain.
Thomas is fighting the fight – he has Stage 2 Wilms Tumor since the age of 4.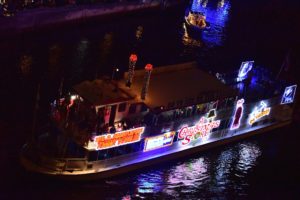 Jr. Captain Showboat which hosted Thomas and 25 of his guests in the Seminole Hard Rock Winterfest Boat Parade. The Jr. Captain Showboat is powered by FPL
Attention Broward County Non Profits!
Share your Mission…
We are seeking nominees for the 10th annual JUNIOR CAPTAIN PROGRAM
Eligible candidates: Children between the ages of 7 & 16 that receive services you provide.
ONE LUCKY NOMINEE/ORGANIZATION will win the title. Their name along with the non profit will be in lights, and will ride with 25 guests aboard the FPL Jr. Captain Showboat in the Seminole Hard Rock Winterfest Boat Parade.
SATURDAY, DECEMBER 15th
Program powered by FPL
The nonprofit will receive a check for $1,000!
Details on how to submit your nominee, prizes for all nominees, contest rules, etc. can be found at winterfestparade.com or call 954.767.0686
ALL NOMINEES will ride aboard the Santa Showboat